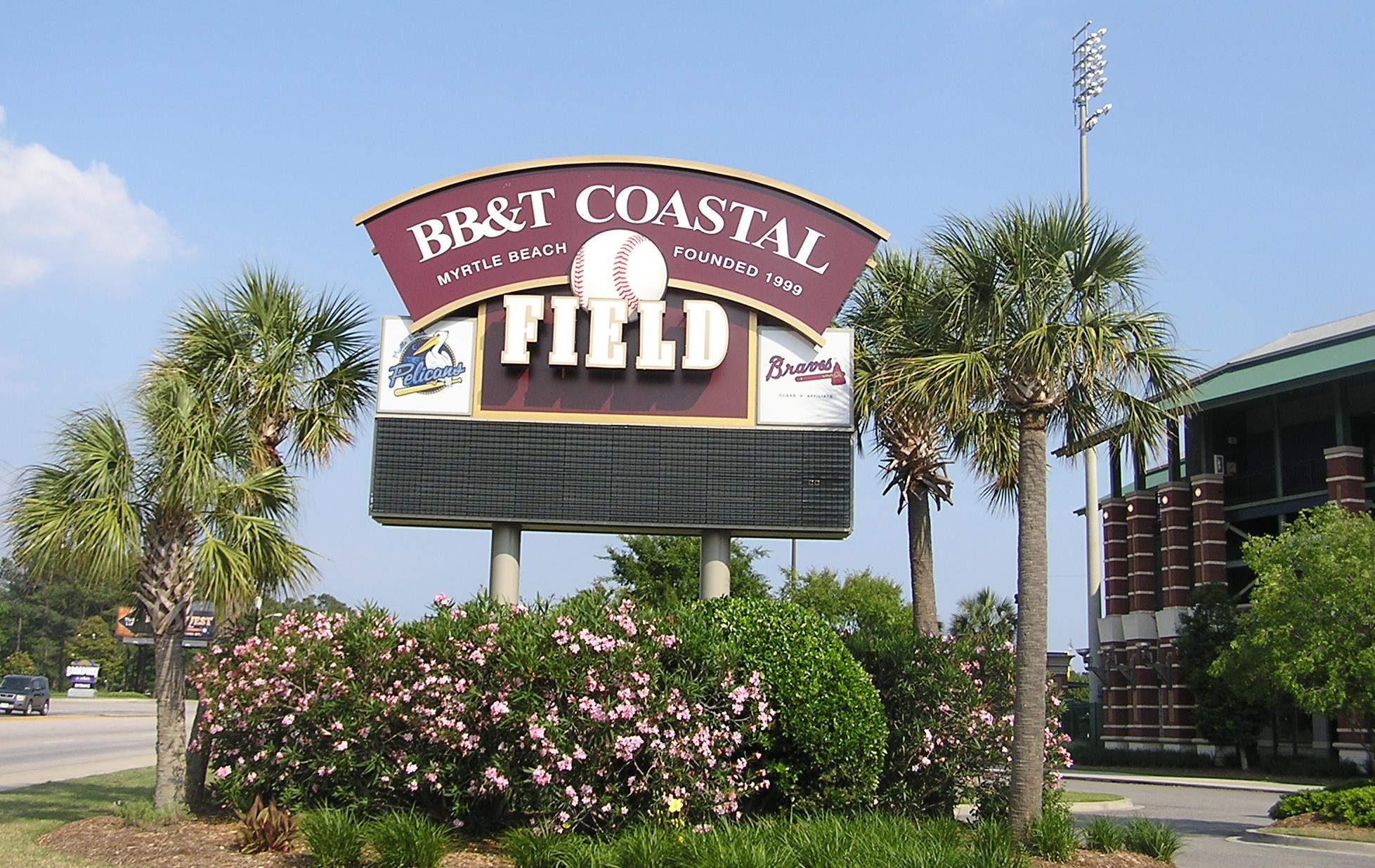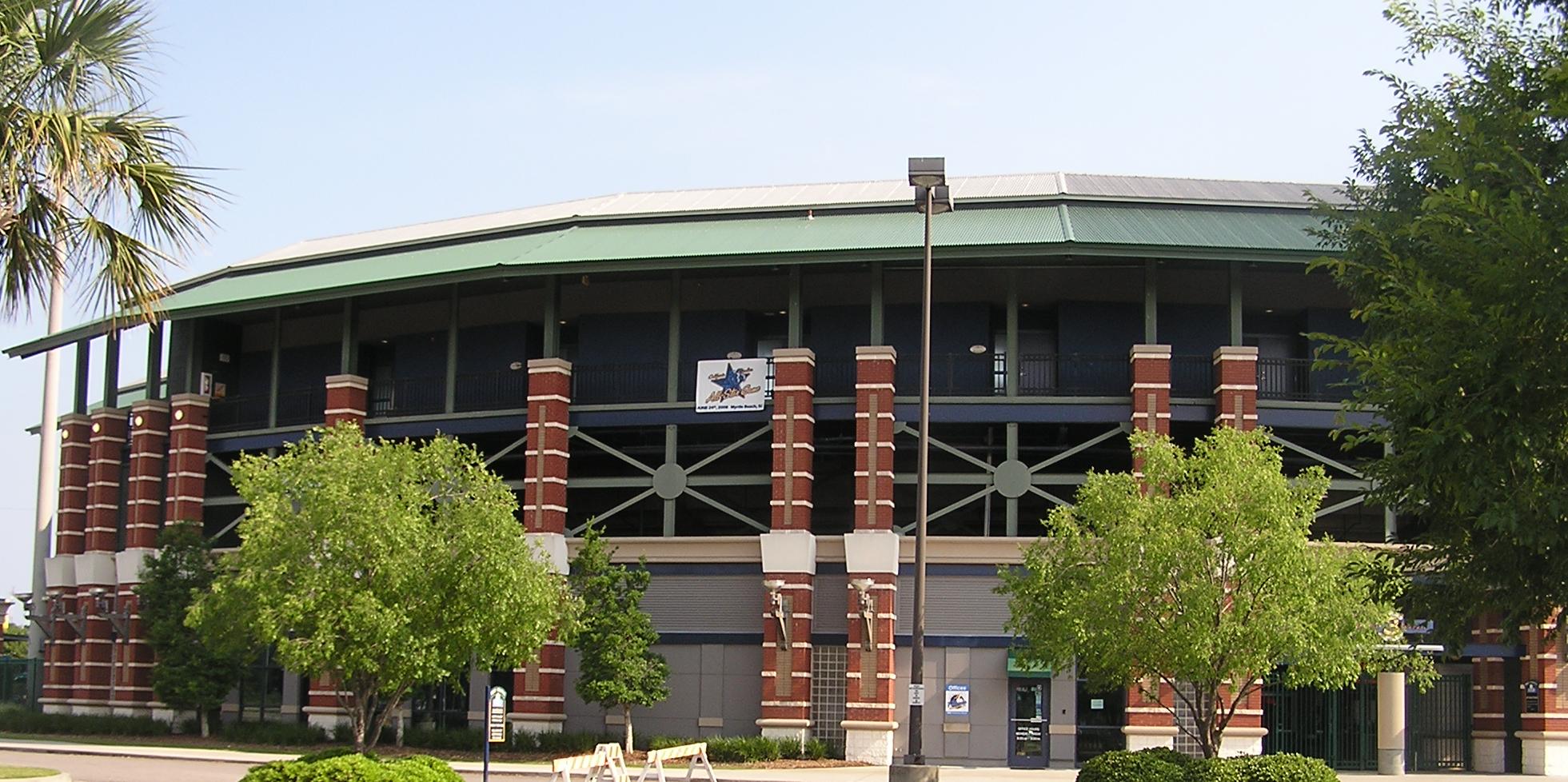 TEAM ::: MYRTLE BEACH PELICANS
LOCATION ::: MYRTLE BEACH, SOUTH CAROLINA
MY FIRST VISIT ::: JUNE 1, 2008
OPPONENT ::: FREDERICK KEYS
LEVEL ::: CAROLINA LEAGUE 'A'
RATINGS
BALLFIELD ::: A
SCOREBOARD ::: A
FOOD ::: B
FACILITIES ::: A
MASCOT ::: A+
MY TAKE ON THE PARK
THE CITY OF MYRTLE BEACH HAS HAD THE CURRENT CAROLINA LEAGUE TEAM FOR 10 YEARS. IN THAT TIME THIS HAS BEEN ONE PARK THAT HAS ELUDED ME UNTIL I MADE THE TRIP TO MYRTLE BEACH FOR THE BEACH, NOT FOR THE GAME. I THINK THAT IS THE ONLY WAY YOU WILL GO TO THIS PARK.
LOCATED ABOUT A MILE FROM THE OCEAN BB&T COASTAL FIELD OFFERS A COMFORTABLE STATE OF THE ART FACILITY TO VISIT WHILE VACATIONING AT MYRTLE BEACH.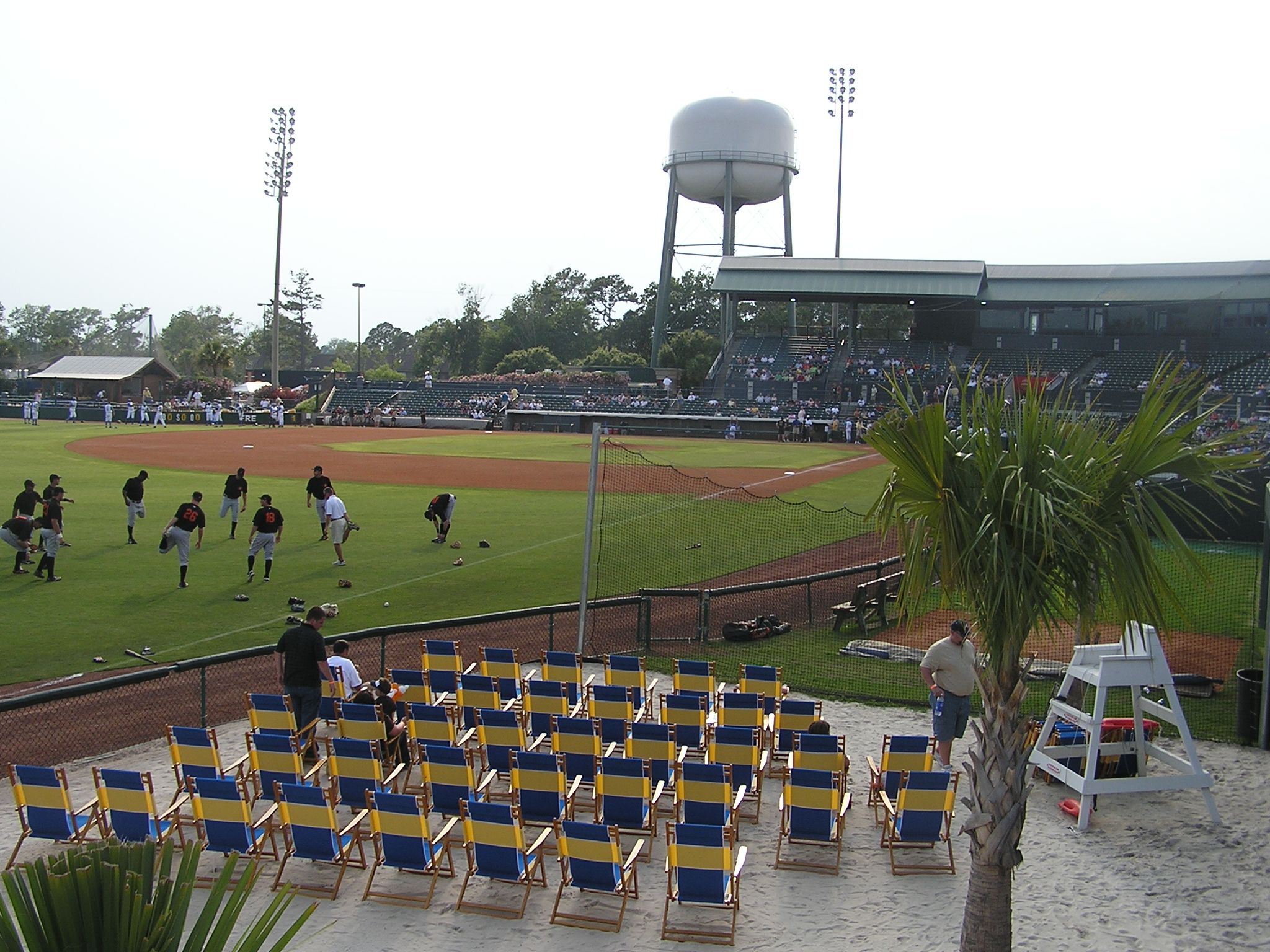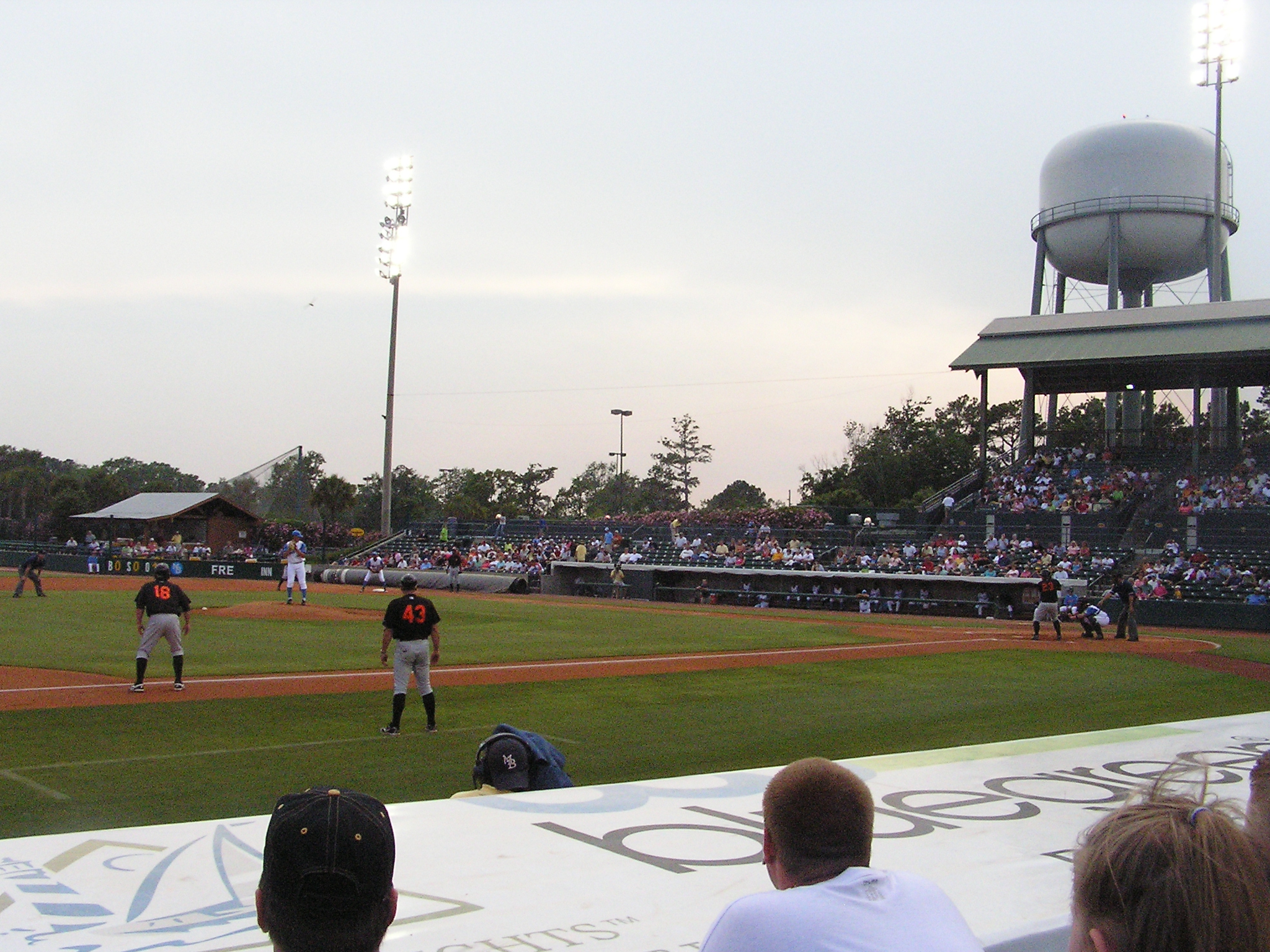 BB&T COASTAL FIELD IS LOCATED RIGHT ACROSS THE STREET FROM THE MYRTLE BEACH ENTERTAINMENT CNETER, 'BROADWAY AT THE BEACH.' ONCE AT THE PARK THE FIRST THING YOU WILL NOTICE IS THE BRICK EXTEROIR BUT QUICKLY YOU REALIZE WHY THIS PLACE IS CALLED STATE OF THE ART. THERE ARE PLASMA TELEVISIONS EVERYWHERE HERE. 2 AT THE TICKET LINE, ONE IN THE MENS ROOM, ON TOP OF THE CONCESSION WINDOWS, AND I THINK EVEN ONE IN THE TEAM STORE. ANYWHERE YOU COULD PUT A SCREEN, THEY DID HERE IN MYRTLE BEACH.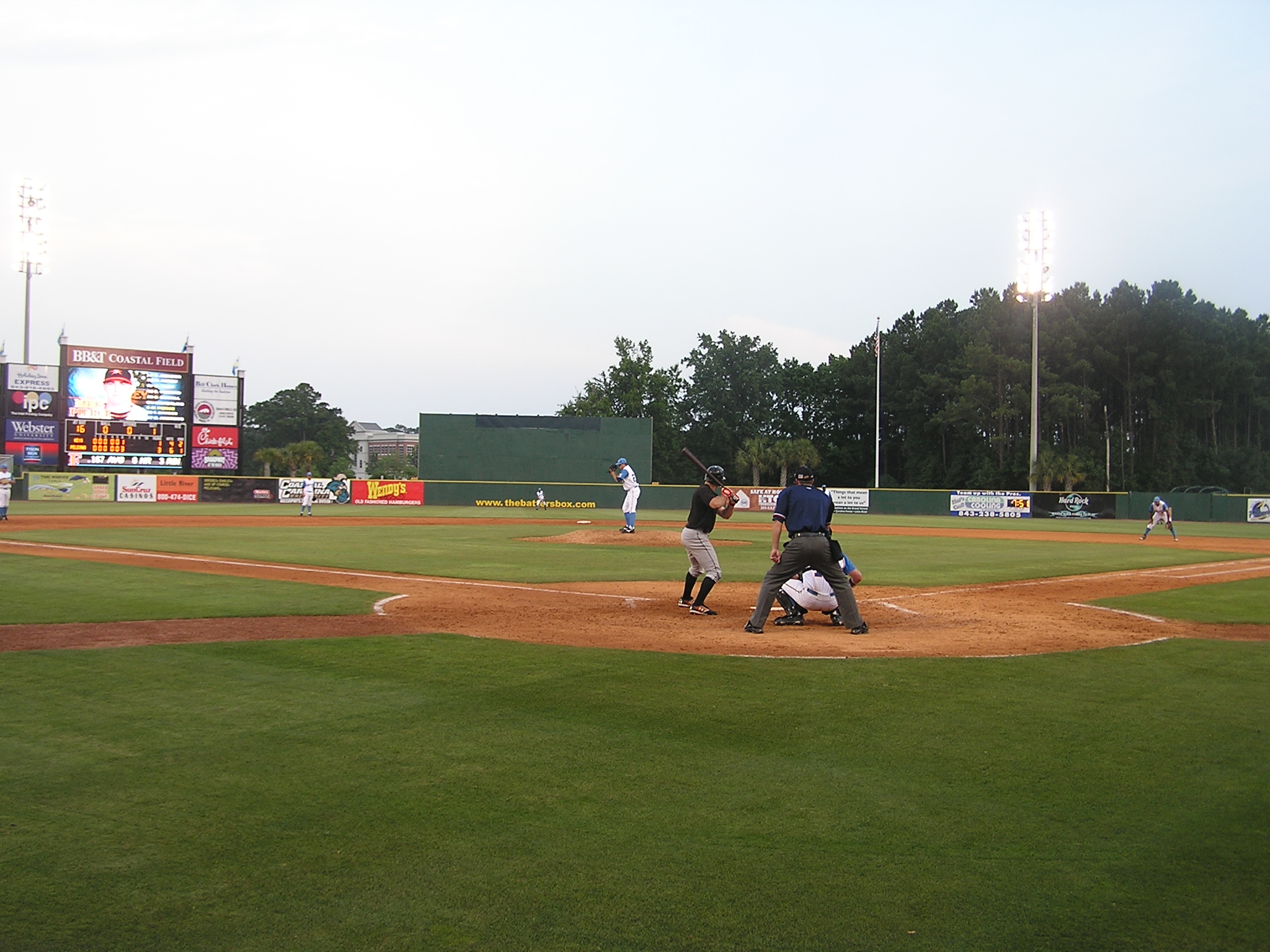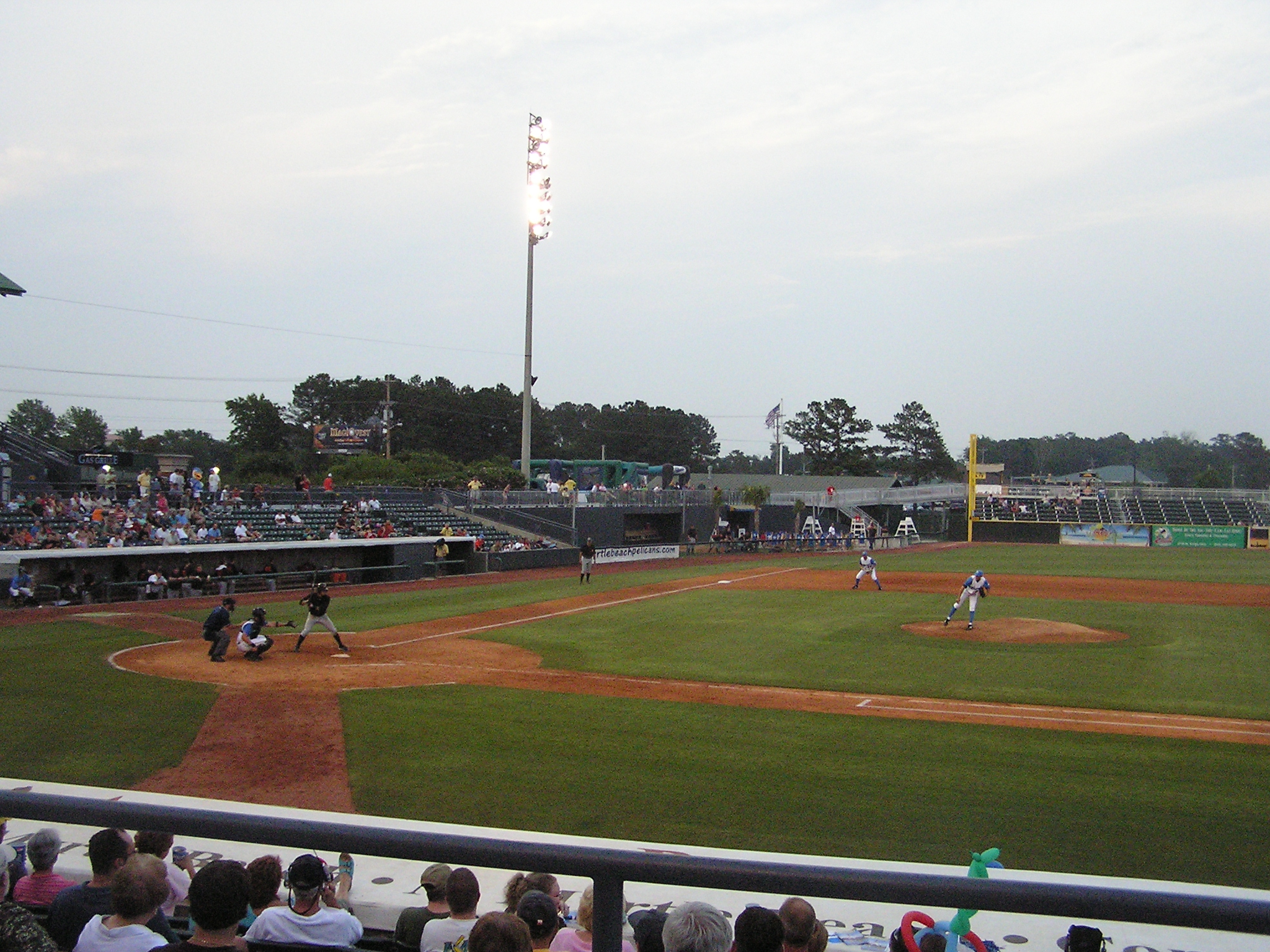 AS FOR SEATING, THE SEATS ARE QUITE COMFORTABLE AND SPLASH THE TEAM MASCOT IS EXTREMELY ACCESSIBLE, AND I DO NOT MEAN IN THE SITTING AT A TABLE SIGNING AUTOGRAPHS WAY.
SPLASH WAS EVERYWHERE IN THE PARK AND TOOK TIME TO SIT DOWN WITH KIDS.
IN SEATING, CHOOSE THE 1ST BASE SIDE AS THIS IS WHERE THE SUN SETS LEAVING THE 3RD BASE SIDE FOR THE SUN WORSHIPERS, AND THE EXTREME HEAT LOVERS.
MYRTLE BEACH BOASTS THEY HAVE THE ONLY OUTFIELD SEATING IN THE CAROLINA LEAGUE. THEY DO HAVE THEM BUT THEY ARE HOT METAL BLEACHERS. THAT BEING SAID,
BB&T COASTAL IS A GREAT PLACE TO SEE A GAME WITH A GREAT LOGO AND
MASCOT. SADLY, LOCATED 2 HOURS NORTH OF CHARLESTON OR 90 MINUTES EAST OF I-95 (ON A PRE-SUMMER DAY) IT IS NOT THE KIND OF PLACE TO VISIT JUST FOR A GAME. HOWEVER, TAKE THE TIME, ENJOY THE WATER, THE SIGHTS, AND THEN THAT NIGHT TAKE IN A GAME WITH THE PELICANS. IT WILL BE RELAXING AND A LOT OF FUN.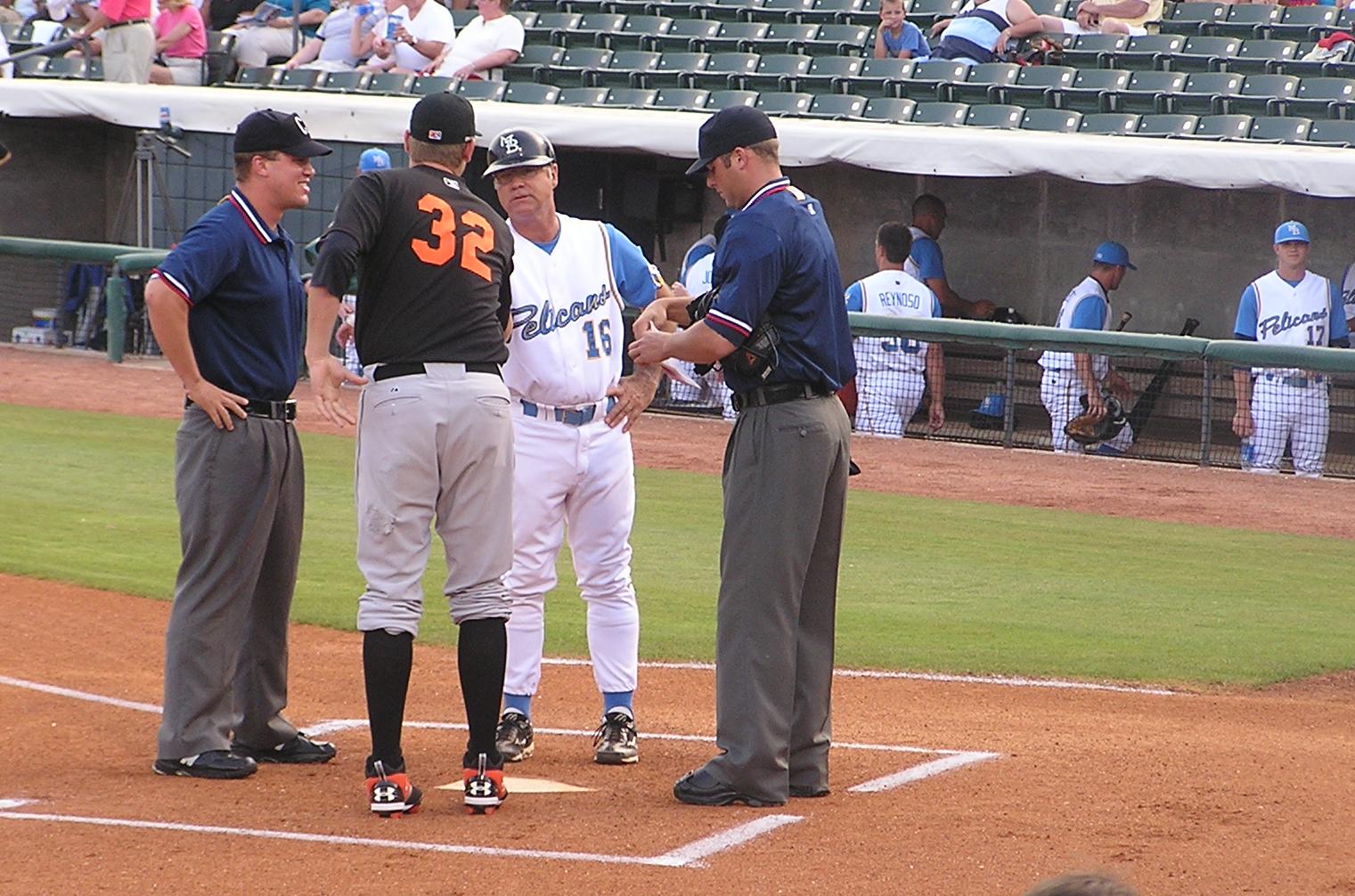 THE LINE UPS
Frederick Keys Manager :::
47 Richie Hebner
Myrtle Beach Pelicans :::
18 Rocket Wheeler
FREDERICK KEYS
18 Chris Amador lf
15 Miguel Abreu 2b
12 Brandon Tripp rf
23 Chris Vineyard 1b
11 Billy Rowell 3b
26 Paul Winterling dh
16 Mike Pierce c
7 Todd Davison ss
6 Bobby Andrews cf
17 Tim Bascom p / LP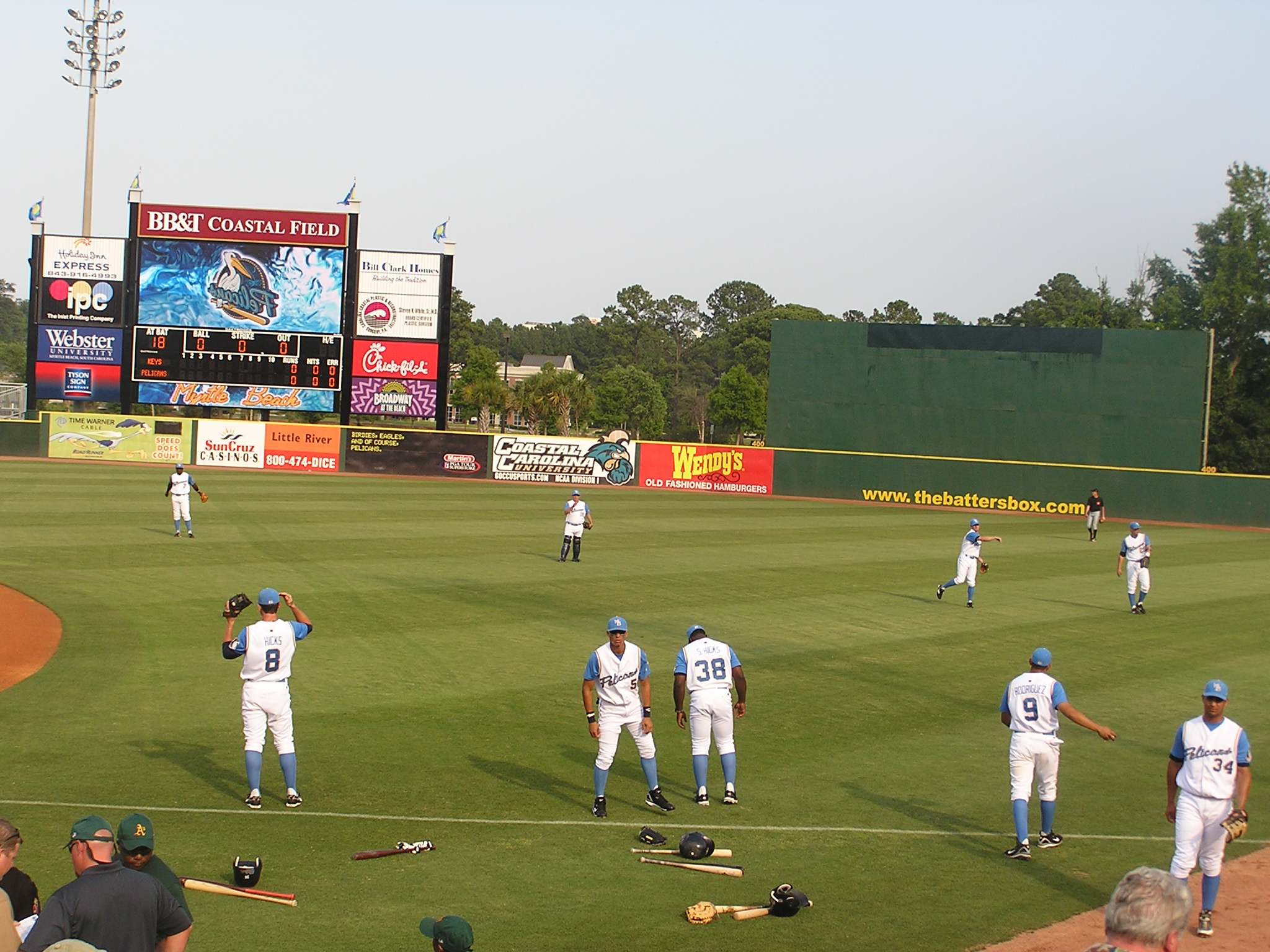 MYRTLE BEACH PELICANS
5 Gorkys Hernandez cf
8 Brandon Hicks ss
23 Willie Cabrera lf
34 Ernesto Mejia 1b
7 Travis Jones 2b
12 Tyler Flowers c
24 Eric Campbell 3b
26 Phillip Britton dh
25 Jon Mark Owens rf
30 Ryan Reynoso p / WP
36 Bryan Dumesnil S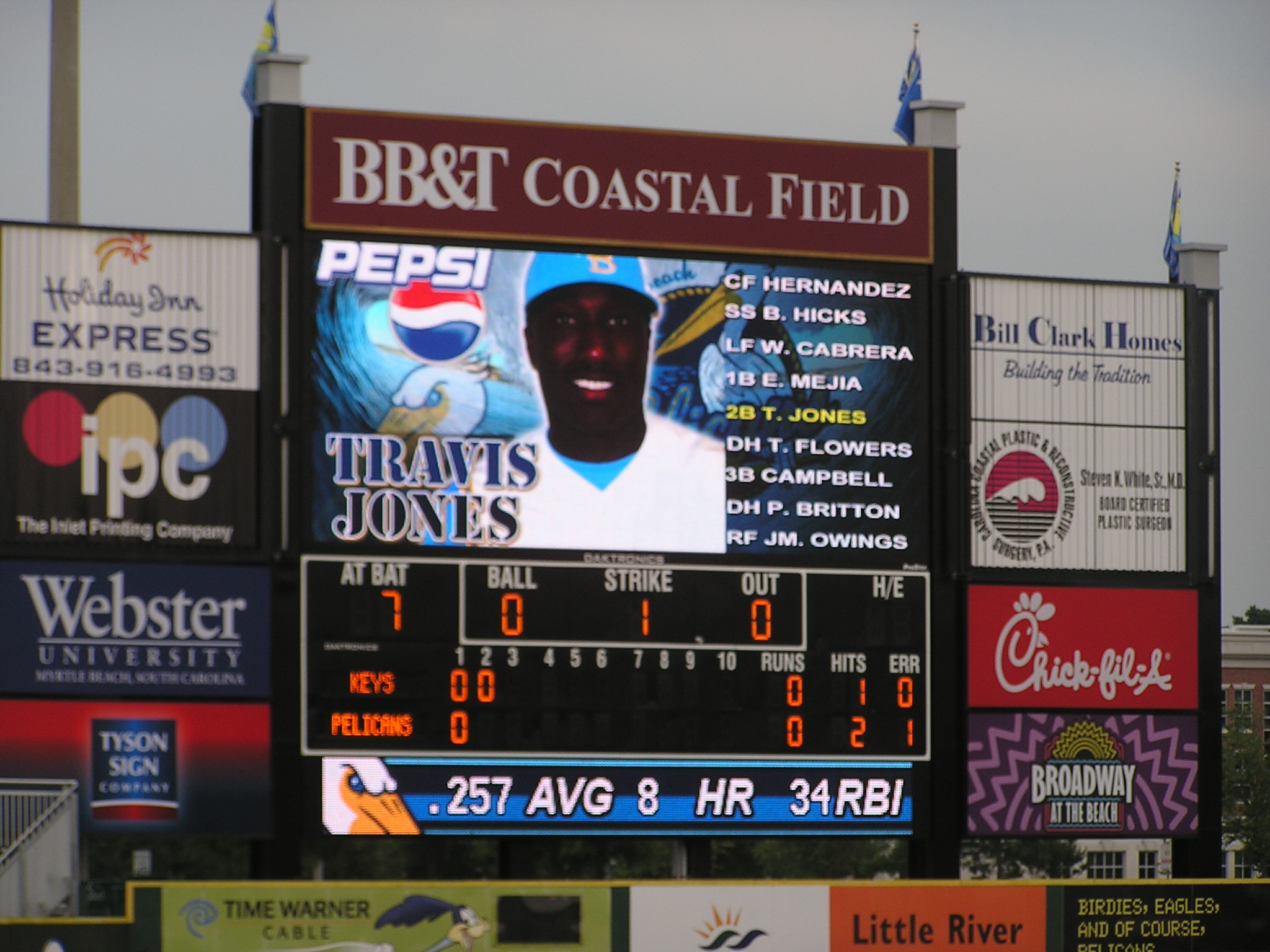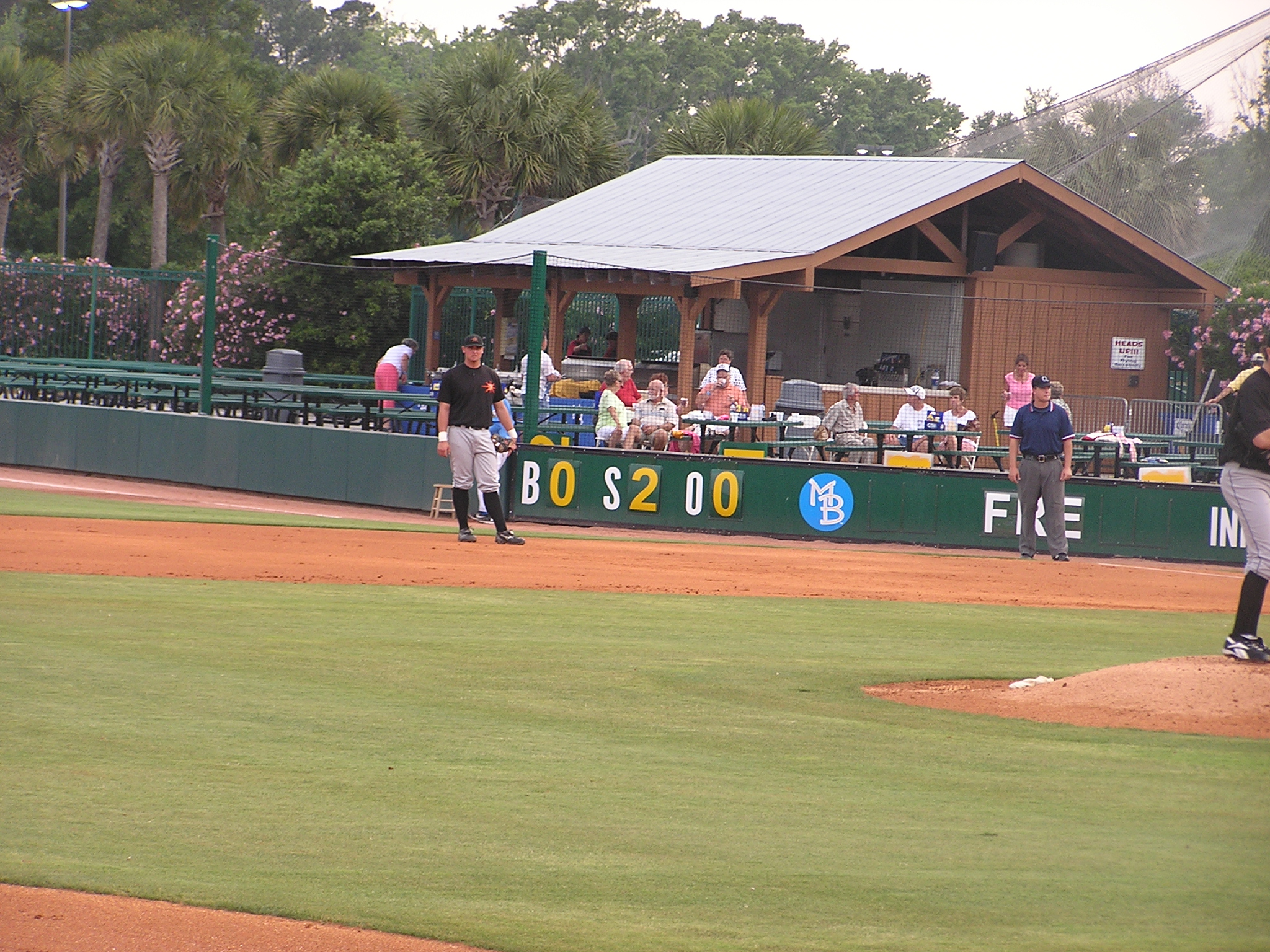 FREDERICK KEYS 000 001 110 2 6 4
M B PELICANS 000 003 02x 5 7 1
TIME ::: 2:33
ATTENDANCE ::: 2,598
WEATHER ::: 89 CLOUDY
SEND ME AN E-MAIL
LINKS
The Official site of the Myrtle Beach Pelicans
Broadway at the Beach - Myrtle Beach
Discover South Carolina - The Grand Strand and Myrtle Beach area
Myrtle Beach weather from WEATHER.com
Last page update:
© 2000-2012 UNCLE BOB'S BALLPARKS
I AM IN NO WAY AFFILIATED WITH ANY OF THE TEAMS ON THIS PAGE ... THIS
PAGE IS MEANT FOR INFORMATION PURPOSES ONLY.